I love this time of year!!  Just when I get so tired of the winter blahs, a nice day comes and all is well with the world.  The kids are outside running around with friends, so that gives me time for a project.  I love these Crochet Flowers.  They are so cute and have so many uses.  Hot glue it to a hair clip, sew it to a bag, put it on top of a cute wrapped gift as the bow, so many options.  But the best part is that these babies go from start to finish in 5 minutes.
You can use any yarn you want.  I have played around with different colors.  I like the single color Flowers.
It's also cute with two colors, one for each row or just a yellow center.
Here's the pattern:
Use any size hook you want.  The bigger the hook, the bigger the finished flower.
Abbreviations
ch–chain
slp st–slip stitch
sc–single crochet
hdc–half double crochet
dc–double crochet
trc–triple crochet
round 1:  ch 5 join into ring with slp st
round 2:  12 sc into ring join with slp st into first sc
round 3:  ch 3 skip next 2 sc slp st into next sc 4 times
round 4:  in  ch 3 space (1slp st 1 hdc 3 dc) repeat in all ch 3 spaces
round 5:  fold newly formed petals in towards center.  working behind petals: 3 hdc in each of the two skipped sc from round 3 around.  join with slp st into first hdc
round 6:  ch 3 sk 2 hdc slp st into next hdc  8 times
round 7:  in ch 3 space (1 slp st 1 dc 3 trc) repeat in all ch 3 spaces.
finish off
Let me know if you have any questions.
Here are some pics of these flowers in action.  Have a wonderfull springy day!!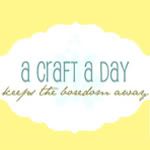 creations by kara